My next stop was Bauchi, mostly of interest as the nearest city to Yankari National Park. It's quite a nice city, although the only thing you could call a tourist attraction is the crumbling but still impressive tomb of Nigeria's first prime minister, Abubakar Tafawa Balewa.
In the evening I went for a stroll around the old city, the old mud walls seem to be in slightly better condition than in Kano and Zaria.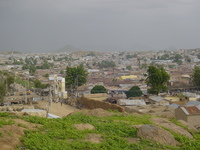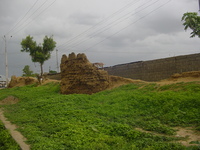 I took an okada to the Emir's palace, the young rider took me on a slightly roundabout route, showing off his baturi passenger to his friends. I was amused to see that he'd painted a thin beard on his chin, to augment the few hairs growing there. In the square outside the Emir's Palace and the prison local youths were playing football. It seems to be quite organised, with a referee and someone who seemed to be a coach. Lots of local men and boys were watching, with various vendors selling fried yam, akara (kosai in Hausa) and other street food.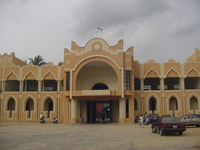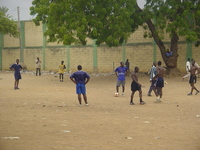 As the dusty pitch is surrounded by a prison wall on one side and busy roads on the other three sides the players often had to run out into the road to fetch the ball. I'm surprised they never got run over.