Today I'm in Maiduguri, right up in the far north east, close to (what's left of) Lake Chad.
Yesterday's journey up from Bauchi was difficult but with a happy ending. I got to the motor park and found the car with the "Maiduguri/Potiskum" sign, it was almost full. Then the driver announced that he was only going as far as Potiskum, although everyone in the car wanted to go to Maiduguri. The driver of the next car in line was willing to go to Maiduguri, but the union man wouldn't let him take us because it wasn't his turn!
So, a cramped journey to Potiskum and then squeezed into an even more cramped "Borno Express". Despite the discomfort the journey was going well, on a recently resurfaced road, until we reached a huge queue of traffic 33km from Maiduguri. People had parked all over the road, blocking both lanes and the hard shoulders.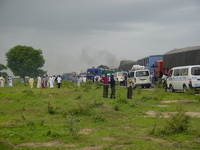 Everyone came down from the bus and I walked up to the cause of the problem, a big truck slewed across the road. It seems (based on later information) that it had tried to go through a police roadblock, the driver not noticing the plank with nails in on the road. One of the front tyres had blown out. The driver and some others were under the truck jacking it up and changing the tyre.
The police roadblock (tyres and bits of wood) had been dragged off the road and set ablaze, a huge plume of oily black smoke was drifting across the road. I didn't find out what happened to the policemen, angry truckers tend to gang up together.
After about fifteen minutes a police pickup turned up and drove up to the truck. It was immediately surrounded by a crowd of people, pushing and shouting. The police kept moving on, away from the crowd and eventually drove off again.
Eventually, with the truck's tyre replaced there was still no movement. It seems that the truck driver was demanding that somebody give him 70,000 Naira for a new tyre, otherwise he was happy to stay there all day.
One man in the bus had phoned ahead to Maiduguri and arranged for someone to come and pick him up, he offered three of us a lift. We walked to the opposite side of the huge queue of vehicles, quickly scuttling past the truck (somebody decided that because I'm white I could easily pay the whole 70,000).
Just as our lift arrived it seems that people had had enough and were just driving off-road around the blockage.
So a long, uncomfortable and tedious journey but with a lovely act of kindness at the end. Instead of the remaining 33km by bus I got to travel in a Mercedes.
Like most cities in Nigeria Maiduguri is a mixture of squalor and beauty: