The journey from Maiduguri to Kano was much easier than the one from Bauchi, no changes or huge traffic jams.
On my first night I stayed at the Tourist Camp, a state-run hotel/hostel targetted at overland tours that seldom come. It's cheap and does seem to attract an occasional genuine tourist; it's also very handy for Bompai road, where there are several nice restaurants and bakeries.
In the evening I had dinner at an Italian restaurant. It seemed nice but the service was very strange, both my starter and main course appeared at the same time, so I had to eat the main course first before it got cold. The food was OK, but not as good as Ciao in Abuja and fairly expensive.
An early start the next day, a taxi to Kofar Ruwa motor park and I was on my way to Katsina. The road seems to have been repaired fairly recently, but there are signs it won't last long. The contractors will have been diverting money from the materials to bribe the officials granting the contract.
Katsina is a fairly small and quiet city, with a nice big square outside the Emir's palace and Nigeria's tallest remaining mud building, the Gobarau Minaret.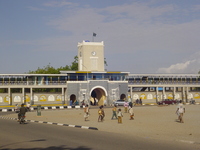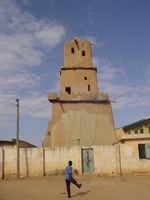 It's surprisingly green at this time of year, I was expecting it to be much drier considering how close it is to the Sahara.
Back in Kano the next day I got soaked on an okada on my way to the railway station. After poking around a bit I found some staff, a young guy who told me that trains to Lagos are now weekly. It seems they leave Lagos on Friday and usually arrive in Kano on Monday or Tuesday but "sometimes there is breakdown or derailment"! While I was trapped in the station by the rain he then gave me an hour-long (it seemed longer) lecture on the joys of accepting Jesus into your life.
Once the rain had stopped I took a taxi to Gidan Dan Hausa, the former home of British colonial official and Hausaphile Hans Visscher. It's built in traditional style and is very pleasant, although suffering from a serious termite infestation. Now a museum I had to be escorted by a guide, which was unfortunate as he could barely speak or read English but insisted on reading out the labels on items anyway.
In the evening I met up with Susan for a nice Chinese meal and then retired to the ECWA (Evangelical Church of West Africa) guesthouse. They have a new accommodation block with hotel-quality rooms at very reasonable prices and it's very nice, although the list of house rules is a little intimidating.