I just got back on Sunday from a two-week holiday back home. This was partly to get away from the elections in Nigeria, partly to attend my nephew Joseph's first birthday party and also just as a holiday.
The KLM flight from Abuja to Amsterdam (via Kano) was comfortable enough. They have video on demand in economy on their new A330s, so I could occupy my night by watching films and TV shows. I'd used the online check-in to choose an exit row seat, so I had plenty of legroom.
Mum and Dad were waiting for me at Edinburgh, along with my niece Eve. She was a little bit shy at first, but remembered me from October and was soon chatting away.
I spent the first week in Stirling, at Mum and Dad's. The pictures of Eve and Joseph are from the day Mum and I took them to a wildlife park. Eve is wearing a hedgehog mask on top of her head and Joseph is very good at serious looks.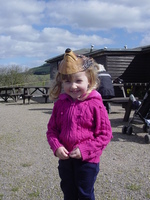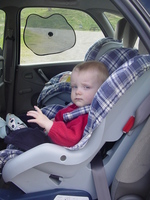 During that week I also visited my Mum's parents in Cambusbarron, they were both suffering from some kind of flu that's been going around but seemed OK apart from that.
My sister Clare and her husband Iain moved into their new house that week as well. Quite a bit of work had needed to be done on it and some wasn't quite finished as they moved in. On the day of the move Dad and I took Eve on a West of Scotland railway excursion, starting at Cumbernauld and passing through Whifflet, Glasgow and various other places and including a ferry crossing from Gourock to Helensburgh. Eve loves trains and buses and happily ran around inside the ferry shouting "I LIKE BOATS!" Dad had been plotting the trip for some time and we made good use of an SPT Daytripper ticket (£15 all day for two adults and up to four children).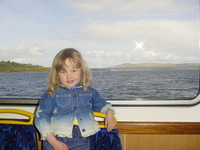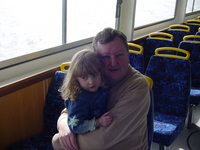 The second week of my holiday was spent with my other grandparents, down in Norfolk. Mum had added me to the car insurance so we shared the driving down and back. As usual, Granny was on a mission to feed me up, cooked breakfasts every day and lovely lunches and dinners too. It obviously worked because everyone at NTI is commenting on how I've gained weight (this is a compliment in Nigeria).
On Friday we drove back up to Stirling, taking the scenic route across the border on the A68. My laptop had returned from repair just in time, but I discovered that IBM had swapped the faulty motherboard for one with an inferior graphics chipset, I'll now have to try and get this sorted out from Nigeria.
A very early start on Saturday, I was up at 3:15am to finish squeezing everything into my bag (lots of books, some foodstuffs and various other odds and ends). The timing of the Edinburgh-Amsterdam flight is a bit unfortunate, as it means hanging around Schipol for over 5 hours. It's better than 5 hours hanging around at Heathrow though! The return flight was also comfortable and because it was during the day and I'd chosen a window seat I got to see the Sahara.
Finally, on Sunday, I got back to my little house in Kaduna. I'm always quite glad to get back to my house after a trip away, although on this occasion I immediately had to start sweeping up a collection of dead cockroaches and putting my front door lock back together (it's old and falls apart occasionally).
So overall a really nice little break, it's always good to see my family (especially my grandparents and Eve and Joseph) and I think it has refreshed me, ready for the work of handing over to my colleagues at NTI before I leave for good in September.