On Saturday I finally got round to starting another one of my little projects: making a Kaduna bus map. Around 11am I set off from NTI to take each of the bus routes around the city and log the stops on my GPS.
I think quite a few of the drivers and conductors were fairly bemused by this baturi sitting in the front of the bus, scribbling notes in a little black book and occasionally pressing buttons on an odd blue device wedged under the windscreen.
Before I boarded the first bus I was hanging around at Kawo and saw a train approaching, with a single goods van behind the locomotive.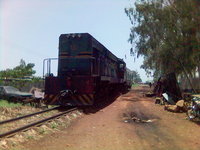 In the end I visited various parts of Kaduna I'd never been to before and gathered enough data to make the map. Now I just need to spend some time drawing it.
The last trip of the day was out to the end of Mando. I strolled back through the edge of town and had some suya for dinner. As I was walking along the road I saw this sign: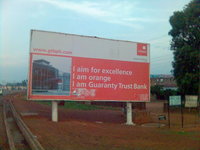 Just what everyone looks for in a bank: orangeness!