Every once in a while I get an email asking to use my photos. The first was from Satan's Penguins (their own website seems to have vanished), a Swedish heavy-metal band.
They ended up using several of my Antarctic pictures on the cover of their album "Birds of Darkness". The link's to a review (found by a Google search today) that mentions "On the front cover, four shrouded penguins stand against the sunset.", that would be these penguins: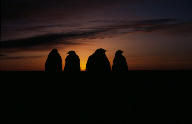 (There are actually five penguins, the third from the left isn't just very fat)
I've also provided photos for some educational activities in various places and a book about Greece published by the Danish Geografforlaget.