I recently spent a week working at Opera's Wrocław (Wikipedia). office, we have quite a lot of the Opera Mini server team based there.
The journey is pretty easy, Ryanair fly direct from Skavsta to Wrocław, so it's just the usual torments of flying with an airline that hates passengers. We got there about lunchtime, checked in at the Scandic and then wandered down to the market square for a beer and some solid Polish food.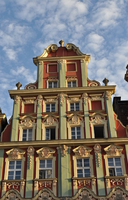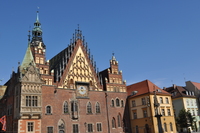 It was a really fun week, the team took us to lots of nice restaurants for lunch and it's always good to spend some time with people you normally only see by video-conference. I especially liked the Spiż bar/brewery on the square, whenever you bought a beer you got handed a lard sandwich to go with it. Food and drink are very cheap compared to Sweden, especially lunch at Miś Bar — where you can get platefuls of dumplings for a few złoty.
It's a city full of statues and monuments, this one was right across the road from the hotel: