Sunday 19th March
I arrived into Abuja at around 8pm but the heat was still almost overpowering as I stepped out of the horribly air-conditioned plane.  The immigration desk officials were efficient and very friendly (thank god the Americans haven't been training them!) and I was soon collecting my luggage and meeting Kevin.
As it was dark I could not see much as we drove into Abuja and to Radio House where we would be staying with Marebec for the night.  I met Marebec and Russell before gratefully heading to bed although 5am alarm call had been set!
Monday 20th March
Up very early and off the Jabi motor park (which is actually called some other name which no one actually calls it) to get a car to Kaduna where Kevin now lives.  My mum and dad had prepared me for the state of the cars and I think being half asleep made me distinctly relaxed about the safety of these vehicles.  We got a car quickly and were soon heading off.
We headed to NTI when we reached Kaduna and greeted the many security guards before dropping off the rucksacks in Kevin's room before a greeting tour of all the staff in NTI, many who appeared to be asleep.  We then went into Kaduna for a look around the market and the city itself.  It was overwhemingly busy with people and traffic everywhere in no apparent order, not at all like British cities.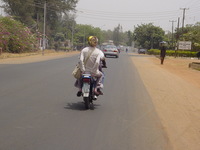 That evening we met some of the other VSO's in the Air Force Club for a few beers and then for some dinner in the form of suya, which was unbelievably spicy, so much so it brought tears to my eyes!  It was then a white knuckle ride on the motorbikes to get a car back to NTI.

Tuesday 21st March
Kano, an old Hausa city, was next on the tour.  Once we got into the city centre by means of a taxi, which broke down about every 100m, we found a hotel in the Christian area.  We then visited the museum, where my torch came in handy as the NEPA was off, the dye pits and a general wander around the old city.  Apart from the usual calls of oyinbo quite a few people seem to think we were international observers in Kano to monitor the upcoming census even though we did not have matching t-shirts and caps.
Wednesday 22nd March
Before we travelled back to Kaduna we visited the Dala Hill where you could see the full city although the Harmattan meant it was quite hazy.  From here you could see just what a large city it was and realised why Nigeria is Africa's most populous nation.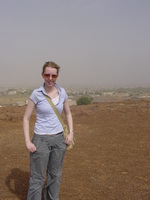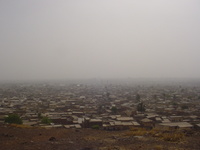 The journey back to Kaduna was particularly uncomfortable, due to the forthcoming census travel restrictions very few cars were leaving, so both of us were in the front passenger seat for the three hour journey.  After we folded out of the car at NTI a relaxing afternoon was required and a shower!
Thursday 23rd to Sunday 24th March
As there was going to be a travel ban on the Friday and Saturday Kevin had decided that we should travel to Kabba and stay with Fathers' Noel and Leo.  We got there in the late afternoon and were promptly counted by the census officials of whom one was writing and four were watching and providing advice.  Tammie and Kim, two other VSO census refugees, were already there and a relaxing evening of good food, good drink (isn't it always!) and great company ensued.
We spent the next couple of days relaxing in the lovely surroundings, watching a strangely addictive American soap, taking walks and drinking courtesy of our very kind hosts.
Sunday 26th March
Travel was again possible so we all headed off in our respective directions.  Kevin and I were travelling to Oshogbo where we were met by Laide who drove us to Shuah's house where we had kindly been invited to stay.  That evening we ate in the Nigerian equivalent of McDonalds which despite a extensive menu only had about three dishes.  Despite this what we had was considerably nicer than McDonalds fare.
Monday 27th March
Oshogbo appeared to be quite a small city compared to the others I had visited.  It has a very impressive mosque and not quite so impressive palace and also the Sacred Forest.  The Forest contains a shrine and a multitude of carved sculptures where were very beautiful.  It was very peaceful as there was not another soul to be seen.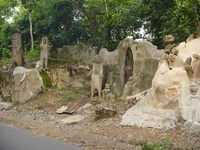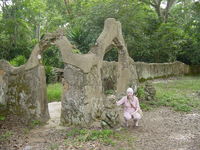 In the afternoon, Laide drove us out into the country to visit a waterfall after a delicious lunch at an African kitchen.  That evening we enjoyed dinner at a chop house on the main street watching the small children disciplining the babies in their charge by means of a good smack.  I don't think the Nigerians would think much of the Scottish Executive's smacking ban!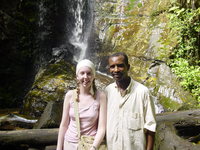 Tuesday 28th and Wednesday 29th March
Due to the census Kevin's original itinerary including Calabar had to be amended due to lack of time and therefore we went to Jos instead.  It was a slightly trying journey, and in fact downright terrifying, but the cooler air was a welcome relief after being in stuffy cars all day.  We had been recommended to stay at the Christian guest houses which are numerous, however, there was sadly no room at the inn.  We soon found a hotel and headed out for dinner.
The next day, after a particularly cold bucket shower (the cooler night time temperatures being to blame), we visited the museum which was very interesting apart from the slightly strange anti-drugs exhibition which appeared to have been put together by young children.  Outside the museum there were lots of tall trees absolutely laden with bats – this did make me slightly uneasy as I tend to associate bats with rabies!
That evening we enjoyed a lovely dinner at a Lebanese restaurant which made a welcome change from the spicy Nigerian food.  Back at the hotel there was no light so we were presented with a candle as we arrived and were soon in bed.  However, at around midnight what Kevin thought was a mosquito was heard and prompt mosquito net hanging was taking place after which I realised the 'mosquito' was in fact Celine Dion from the next room!
Thursday 30th March
On my final day we travelled back to Abuja to get my flight in the evening.  I had thought we had been lucky not to have any of the old wrecks that we had been in break down and indeed it was.  A few cars later we arrived at Radio House to have a shower and get ready to go to the airport.
Friday 31st March
Arrive back at Edinburgh airport to sideways rain and 5°C and wish I was back in Nigeria.  I thoroughly enjoyed my visit and especially appreciated the friendliness of the Nigerian people.  Although running water, reliable electricity, hot showers and hair straighteners were most welcome I would love to return to Africa.