Sunday 19th March
I arrived into Abuja at around 8pm but the heat was still almost overpowering as I stepped out of the horribly air-conditioned plane.  The immigration desk officials were efficient and very friendly (thank god the Americans haven't been training them!) and I was soon collecting my luggage and meeting Kevin.
As it was dark I could not see much as we drove into Abuja and to Radio House where we would be staying with Marebec for the night.  I met Marebec and Russell before gratefully heading to bed although 5am alarm call had been set!
Monday 20th March
Up very early and off the Jabi motor park (which is actually called some other name which no one actually calls it) to get a car to Kaduna where Kevin now lives.  My mum and dad had prepared me for the state of the cars and I think being half asleep made me distinctly relaxed about the safety of these vehicles.  We got a car quickly and were soon heading off.
We headed to NTI when we reached Kaduna and greeted the many security guards before dropping off the rucksacks in Kevin's room before a greeting tour of all the staff in NTI, many who appeared to be asleep.  We then went into Kaduna for a look around the market and the city itself.  It was overwhemingly busy with people and traffic everywhere in no apparent order, not at all like British cities.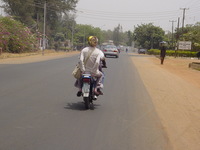 That evening we met some of the other VSO's in the Air Force Club for a few beers and then for some dinner in the form of suya, which was unbelievably spicy, so much so it brought tears to my eyes!  It was then a white knuckle ride on the motorbikes to get a car back to NTI.
(more…)