Got up and wandered down to the restaurant for breakfast, pancakes, nice baguette with butter and jam and real coffee!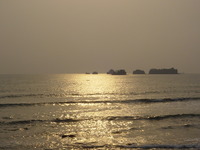 The main activity was a trip through to Buea to book the Mount Cameroon trek. We took a drop to Mile 4 motor park and then bought tickets for a bus to Buea. The motor parks actually have ticket offices, unfortunately the man at the Buea window was a bit aggressive. The standard of driving in Cameroon seems to be higher than in Nigeria, fewer mad overtaking manoeuvres and generally less aggressive drivers.

Another drop took us from Buea's motor park to the Mount Cameroon Ecotourism office. We all sat around the table with the various brochures and information folders and discussed which route to take. Given our time limitations we couldn't manage the five-day hike taking in the villages and wildlife on the northwestern side of the mountain, instead we chose the four-day hike up the Guinness Trail to the summit and back down via Mann Spring (MountCEO have an Acrobat document describing the route).
We also had to decide on what equipment to hire and how many porters to take. Given that there is very little water up on the mountain you have to carry all your water up with you, at least three litres per person per day. This added up to 12 litres per person for the trip or a total of 96 litres! In the end we decided on nine porters as well as the two guides.
Lunch was at the Buea motor park, I had very nice rice, stew and beans.
In the afternoon we back in Limbe I spent half an hour on the internet checking my email then Pete and I went to check another hotel in case the Miramare didn't have room for Jenny, Irma, Karin, Chantal, Jonathan and Kay. The Victoria Gardens hotel, above the Miramare had rooms available but was a bit grim and didn't have the nice views.
After another afternoon swim we walked round the bay to the Mars bar for dinner. The fish was OK, the beers expensive and the service poor so after we had eaten we moved a bit further round to Down Beach. Down Beach is a section of beach with tables and stalls selling beer and grilled fish, similar to Abacha barracks in Abuja but in a nicer setting. After a few beers I ended up back at the hotel drinking a few more and a whisky with Charles.