On Sunday Indar and I had a very early start to get to the Cross-Country bus terminal over in Utako district. Most of the bus companies don't run services direct to Calabar. The terminal was pretty chaotic, with no indication of which bus was going where. After a while we were pointed at the Calabar bus and it soon became obvious that luggage was going to be a problem.
Cross-Country have a fleet of Volkswagen minibuses with two seats beside the driver, a row of three seats, a row of two and the back row of three. Between the back row and the tailgate there is a tiny space for luggage. Nigerian bus companies don't seem to have caught on to the idea of roofracks, so all our bags (and some of the passengers had a lot of bags) had to be squeezed in. This took a long time and quite a bit of arguing, with the guy loading the bags demanding extra money from some of the other passengers.
We eventually set off, at which point the driver admitted that he had never driven to Calabar before and was unsure of the route. We then stopped for fuel, the petrol station had the marvellous safety sign in the picture below.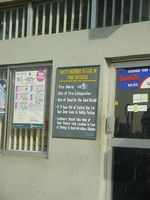 (more…)