On Sunday Indar and I had a very early start to get to the Cross-Country bus terminal over in Utako district. Most of the bus companies don't run services direct to Calabar. The terminal was pretty chaotic, with no indication of which bus was going where. After a while we were pointed at the Calabar bus and it soon became obvious that luggage was going to be a problem.
Cross-Country have a fleet of Volkswagen minibuses with two seats beside the driver, a row of three seats, a row of two and the back row of three. Between the back row and the tailgate there is a tiny space for luggage. Nigerian bus companies don't seem to have caught on to the idea of roofracks, so all our bags (and some of the passengers had a lot of bags) had to be squeezed in. This took a long time and quite a bit of arguing, with the guy loading the bags demanding extra money from some of the other passengers.
We eventually set off, at which point the driver admitted that he had never driven to Calabar before and was unsure of the route. We then stopped for fuel, the petrol station had the marvellous safety sign in the picture below.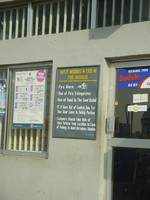 The driver seemed to be in a hurry, so we hardly stopped all day. At one stop I thought I might get out and stretch my legs but the driver insisted he wasn't stopping for long. About twenty minutes later we were still in the bus watching some other passengers finish their food and beer at a nearby restaurant. I only managed to get out when we stopped to refuel at Enugu, grabbing a frozen yoghurt and some nuts.
We reached Calabar after dark, with the driver unable to find the Cross-Country terminal. Instead we dropped near the stadium and took okadas to One Sky, where Pete, Mary, Charles and Amy were waiting. One Sky is a Canadian NGO working in Nigeria and they occasionally allow VSOs to stay at their centre in Calabar.
Once we were settled in we walked along the road to a nearby bar for shawarma and beers.
We spent most of Monday at the Cameroonian consulate in Calabar, getting our visas. This involved handing over passport photos, money and letters explaining why we wanted to go to Cameroon. We got there shortly after 9am and left at about 3.30pm. In the evening we went to another bar for grilled chicken and beers.
Tuesday was departure day, a small group set off for the harbour to negotiate a speedboat to Cameroon. Shortly afterwards they called to say they had been advised that speedboats are a very bad idea and that there was a ferry leaving at 6pm that day. We all piled onto okadas with our bags and speeded off to the "beach" by the cement factory.
The ferry was due in at ten, so we decided to hang around and have a look at it before buying tickets. When it appeared it looked OK, not too old and with an inside (air-conditioned) seating area as well as a load of benches on deck. The name on the stern was "Oil Corsair" and it looked like it might have been converted from another use at some point.
Once we had bought our tickets and handed in our luggage there wasn't much point hanging around, so we split up, with Indar and I heading for the Pandrillus primate refuge. They look after chimpanzees (below left) and drill monkeys (below right), eventually moving them to their "Drill Ranch" at Afi Mountain in Cross River state and from there into the wild. In the drill picture the one with the colourful backside is the dominant male and the others in the enclosure are his females.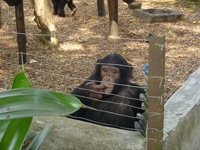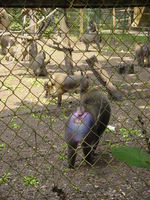 From Pandrillus we moved on to the museum, in the former Governor's residence. This is probably the best museum I've seen yet in Nigeria, they even had electricity when we visited! There's a lot of text to read but it's all quite interesting, covering the recorded history of the area from slave trading, through missionaries and colonial government to independence.
We returned to the harbour to find no sign that the ferry would be leaving soon, apparently due to delays with customs and immigration. So we sat at one of the bush bars outside and waited until boarding started at around 9pm.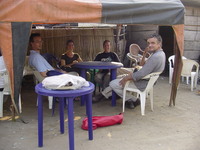 We managed to persuade the crew to let us on a bit early, so that we could grab decent seats in the upper indoor seating area, which had windows. It also had some musical Christmas lights and over-enthusiastic air-conditioning but those were easily "fixed". After quite a while the crew insisted that everyone get back off, so that we could formally board and the ferry could depart.
Entertainment consisted of video CDs of karaoke Christmas tunes or religious gatherings. In some cases the video CDs were left to loop several times. I struggled to sleep in the uncomfortable bus seats but managed to grab a few hours during the night.