Got a call from Alex this afternoon asking if we wanted to head out to visit Bwari pottery. Shortly afterwards he arrived with Tracey and Karen and Marebec and I joined them for the drive out to Bwari.
Bwari is one of Abuja's satellite towns, with lots of housing and some government organisations there. The pottery was set up following the example of the Pottery Training Centre at Abuja (renamed Suleja when the new capital was created here). The buildings are of traditional construction, with grass roofs, and the site is very peaceful.
We watched one of the potters at work and Marebec had a go with his assistance.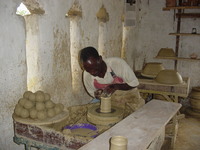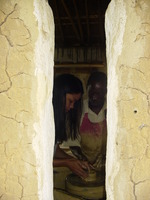 There's an interesting article about pottery in the Abuja area here.