We flew from Orly to the island of Reunion to meet the ship that would be taking us to Kerguelen. Reunion is one of these odd little corners of the world that isn't just owned by France but is actually part of France. From a political and administrative point of view it's as if Reunion isn't several thousand miles away from Paris.
The flight was uncomfortable, made worse by Air France frequently repeating a video of relaxation exercises. This showed an attractive young woman doing the exercises, on the beach at some tropical resort. It's not that easy crammed into economy.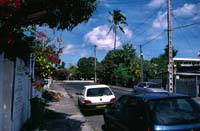 A bus collected us from the airport at St Denis and drove us round to the main port, a town called Le Port. The Marion Dufresne was tied up and waiting for us. We got to spend that afternoon and most of the next day in Le Port, enjoying the sunshine and heat. We sailed as the sun was setting and watched La Reunion disappear into the darkening sky.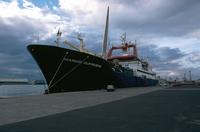 The next day we woke in Mauritius. The Marion was going to spend a day here refuelling, so we had to find some was of occupying ourselves. A few of us hired a car and set off, with me driving as none of the French people wanted to drive on the left.
The fact that this had been a British colony was obvious from more than just the right-hand drive cars. The main road out of Port Louis was named the M1, although it bore little resemblance to British motorways (they usually have fewer agricultural vehicles). On the other hand there was a strong French influence, most of the locals seemed to speak French or Creole as their first language.
During the day we managed to wind our way through the central highlands, visiting a large Hindu religious site and some beautiful places looking out over the landscape of valleys and waterfalls. We just had time for a quick splash in the sea before we had to return to the ship.
We sailed at sunset again, this time accompanied by flying fish as we left the harbour.
journeys/KERrm.html last updated: Fri Feb 29 14:17:18 2008