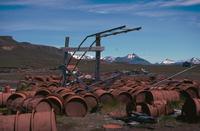 Throughout the summer at Kerguelen a major restoration project had been taking place at the old abandoned whaling station at Port Jeanne d'Arc. This had been built late in the 19th century by a Norwegian company and abandoned early last century when factory ships made land-based whaling uneconomic. For years the weather and vandalism had been destroying the station, until Jean-François Le Mouël convinced the administration of TAAF that it should be preserved.
As part of the restoration project volunteers would spend a few days there, assisting with the work. I was really desperate to get out there but thought I wouldn't get the opportunity before I left, then one night in the bar I was asked if I'd like to spend four days helping with the archaeological work.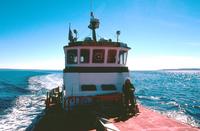 Rapid negotiation with the base authorities followed, made much easier by Jean-Paul immediately giving me permission to leave the rest of the radar work to him. The next morning I was waiting at the harbour with my bags, waiting for L'Aventure to take me across the gulf.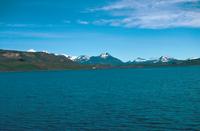 The sun was shining and the sea was calm as we cruised away from PAF and towards the mountainous western end of the island. As we approached it became clear that PJDA (as Port Jeanne d'Arc is almost always known) is not as big as some of the South Georgia stations but also that its setting was spectacular.
We were met by Jean-François, who had prepared a light meal for us, tinned olives and fresh mussels. He gave everyone a tour of the station and then we settled down in the sunshine and enjoyed the unusual lack of wind.
After everyone else had left Jean-François showed me my room and I unpacked. I was surprised to find that our accommodation in one of the old bunkhouses had electricity and even a shower with hot running water. The French don't seem to believe in being uncomfortable.
The wind returned over the next few days, our work digging away the rotten floorboards of the workshop became impossible on a couple of days. I still found it incredible that I was being paid to work on an archaeological site in the sub-Antarctic! It's amazing that the station has survived so long against the fierce winds of Kerguelen, although the accelerating decay was obvious when another one of the blubber boilers collapsed while I was there.
I was sad to leave PJDA but by that time the arrival of the Marion Dufresne was imminent and much as I would have liked to stay, staying until April would have made me unpopular with my new employers.
The trip back across to PAF was bumpy, to say the least. L'Aventure does not perform well in rough seas and walking about on deck was made difficult by the lack of rails round the sides and the frequent drenching by the sea.
journeys/KERpjda.html last updated: Fri Feb 29 14:17:18 2008