I quickly settled back to life aboard ship, the routine on the Marion was remarkably similar to Bransfield and Shackleton. There were some little differences, like having meals served by waiters, complete with wine.
The accommodation was pleasant enough, each cabin had an en-suite bathroom. I was sharing a dual-use laboratory/bedroom with Gerd, a German atmospheric chemist. The lab had the distinct advantage of plenty of desk and drawer space.
After five days of enforced relaxation we reached the Crozet islands, where we were to spend a few days unloading cargo. The only disadvantage of our cabin became obvious early in the morning when the helicopter hangar next door was opened early in the morning and the engines were started up.
Getting across to the Ile de la Possesion (the island with the base on) was just a matter of getting ready and then hanging around at the embarkation point until one of the small boats could take you. The boats (with the uninspired names 'Annexe A' and 'Annexe B') only took six people at a time so we had to wait for quite a while.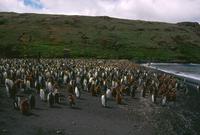 The island was lovely, the beach covered in King penguins and their chicks surrounded the pier where the cargo was being unloaded. Jean-Paul and I walked up the albatross-covered hill to the base, I was stunned by how many buildings there were for only seventeen winterers and especially by the cinema.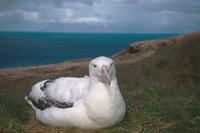 I was lucky in getting across to the island twice in the five days we were there. The second day was mostly spent trying to get a good photograph of an albatross in flight, wasting huge amounts of film.
Finally we had to move on, the cargo operations had been severely slowed down by bad weather and some items (a large crane, for example) were still on board.
journeys/KERmdc.html last updated: Fri Feb 29 14:17:18 2008