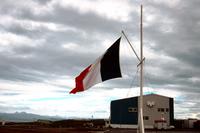 I've had quite a few emails now from people asking how to get to Kerguelen, in fact it's my only Frequently Asked Question.
The simple answer is that it's very difficult. I was in the right place at the right time, with the right experience and the right contacts. If you happen to be a scientist working in a relevant field then you may be able to arrange to work on Kerguelen, CNRS organise the scientific activities.
If you've got plenty of money then you might want to contact Mer Et Voyages, who run cruises on board the Marion Dufresne. They don't take many tourists at a time but you do seem to get treated very well.
As far as working there goes you could have a look at the TAAF site.
One final way of getting there is by yacht. Quite a few yachts seem to stop off there, often on round the world races. They usually stop for repairs though, the Southern Ocean is fairly wild.
journeys/KERhowto.html last updated: Fri Feb 29 14:17:18 2008