My last stop before leaving Australia was Sydney. I had a couple of days to wander around and see the sights, trying to avoid spending too much money (I was way over budget by this point).
Here are the standard ones: the Harbour Bridge (complete with some people doing the BridgeClimb) and the Opera House (the foyer reminded me very much of a 1970s dull and gloomy concrete shopping centre — the pre-refit Thistle Centre in Stirling being a fine example).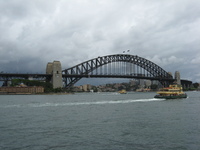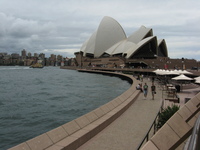 I also went for a tour around the city on the monorail. Although it consists of a single one-way loop it actually has a driver taking up the whole front carriage, reducing passenger space quite a bit. I'm guessing the unions had something to do with that as it looks like a prime candidate for automation.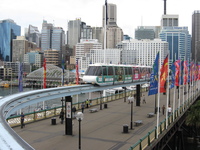 Leaving Sydney was easy, there's a fast and frequent rail service from Central station — about five minutes walk from where I was staying — in comfortable double-decker trains. My flight departure was delayed a bit though, they'd lost power to the gate so the staff had to process us manually and light our way down the airbridge with torches.