After a cold week up in the mountains I needed somewhere warm to relax and worked out that I could get to San Fernando (La Union province) without too much difficulty. The guidebook mentioned that there were some nice beaches nearby.
So after a long day on cramped buses I arrived in the little town of San Juan, just north of San Fernando. It's full of surf resorts, so I just wandered along the road until I found one with a room at a decent price. I ended up with a nice little en-suite room right beside the beach for P500/night at Hacienda Peter's Surf Resort. They also do lovely meals for only P50 and there's a fridge full of beer, you just have to tell them how many you've drunk.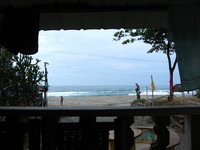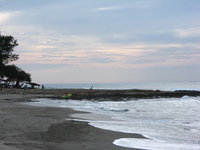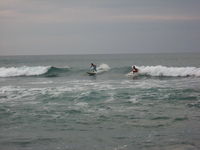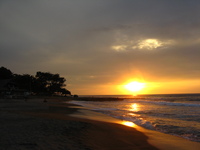 I had a very relaxing few days there, lounging around, occasionally swimming and watching the surfing. On Friday, when I was leaving, they were holding a surf competition on the beach. Of course, that was the day when there were almost no waves at all, I felt sorry for the competitors bobbing about and desperately waiting for a wave before their time ran out.
Late on Friday night I caught a bus to Manila, the start of my journey back home.