Mum and Dad came to visit me for a week, it's taken me a little while to sort out my pictures and write this. (The picture is of Mum and Dad at the Farin Ruwa waterfall)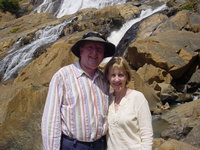 They arrived in the evening on Thursday the 10th, so I hired a taxi and went to the airport to meet them. Nnamdi Azikiwe international airport is quite small and there's not much to do there, so I just wandered around until their flight came in. Fortunately they got off the plane and through immigration and customs very quickly.
We squeezed into the taxi with all their luggage (much of it for me) and drove to the NICON Hilton where Dad was suprised by how long it took several staff to check them in. They did bring us glasses of orange juice though.
We spent Friday in Abuja, starting with a tour of my house and Radio House and including a visit to UTC market so that Dad could buy fabric and have some shirts made. Mum and Dad had their first experience of nigerian food, I took them to one of the chop houses at Radio House, where they tried rice and stew. In the evening we went to the British Village and then to Blake's (an open-air bar with live music) where they met lots of other VSOs, as well as Bob and Alex.
On Saturday we had a very early start, we were travelling to Akwanga and I wanted to get there in time for a visit to the waterfall. Not long after sunrise we were at Karu motor park, where we chartered a car for Akwanga. Mum commented that the motor park reminded her of a scrapyard, most of the cars have probably ended up in Nigeria because they failed roadworthiness tests in Europe.
Mum, Dad and Marebec went to the College of Education with Jenny while I dropped at the roundabout in Akwanga and took a machine to the motor park. There I chartered another car, this time to take us up the terrible road to Farin Ruwa (see also this trip and this one). The car was a little bit clapped-out, Dad was confused by having to reach out to the outside door handle to open the door, but had reasonable tyres.
The road up to Farin Ruwa hadn't got any better. We stopped at Wamba for minerals, not far after there you turn off the (mostly) paved road onto a series of increasingly rutted dirt roads. Some of the slopes were a bit too much for the car and we had to get out at one point and walk up. Eventually we reached a point where a stream crossed the road, the driver tried to drive through but the car ended up grounded on a rock. He then revved and revved until one of the wheels had dug itself a hole and the car was thoroughly stuck.
Marebec, Mum, Dad and I got out and walked the rest of the way to the waterfall, the caretaker did his usual trick of appearing from nowhere to join us. He suggested a shady spot to sit and we had a little picnic of lebanese bread, cheese and hummus.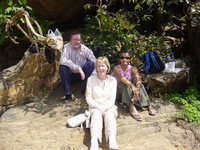 After lunch we walked back to the car, noticing that as soon as the driver saw us coming he leapt up from where he had been sitting and tried to look like he had spent the time trying to get it out of the stream. I suggested jacking it up and putting something under the tyre to give it some grip and we were soon on our way back to Akwanga. We stopped again at Wamba to take back our empty bottles and have a quick drink. Back at the college we had showers and then went round to Karin's for dinner.
On Sunday we had a bit of a lie-in before returning to Abuja at lunchtime. I joined my parents for dinner at the Hilton, the Zuma Grill restaurant was doing a very nice nigerian and "continental" (european) buffet, so Mum and Dad tried some more nigerian food, including the very spicy pepper soup. I was a bit disappointed to find that the Hilton was using pounded yam from a packet.
Monday was my 30th birthday, so I got up quite late and then went round to the Hilton to open my presents sitting by the pool. Several of the other VSOs had given me presents or cards as well, Tracey had planned ahead and given Jenny a card to bring for me. In the afternoon we went out to Bwari pottery, where Mum bought a few things. That night we had a lovely dinner at Thai Chi, Abuja's only Thai restaurant.
On Tuesday Dad had a meeting with some people at GTZ, so Mum and I went out to visit the Daughters of Charity hospital and school in Kubwa. We started with Sister Brenda showing us round the school that forms part of the Hope Centre. The school is for children with severe learning difficulties, many of them suffering from Downs syndrome, cerebral palsy or autism. In nigerian culture they are often regarded as being "evil" or possessed by animals or spirits. Sister Brenda explained that they refused to make the school residential because many of the parents would then abandon their children due to pressure from family and neighbours.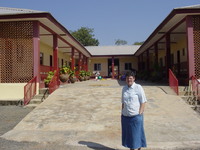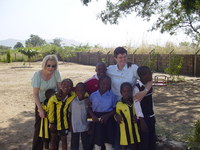 We saw the school's relaxation room (very popular with the autistic children), met Elizabeth (who loves dancing and hugging people), classrooms and the physiotherapy room.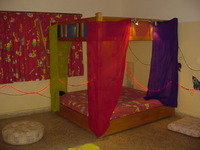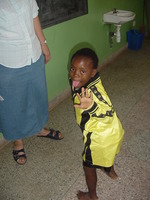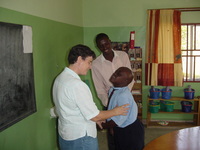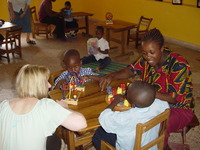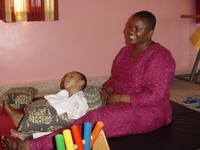 After a cup of tea and a chat with Sister Brenda we had a quick look at the womens' skills centre next to the school before heading down to the hospital.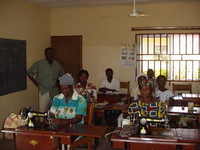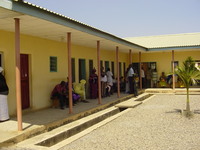 The hospital was quite impressive and very busy. Sister Geraldine is in charge, as well as managing operations for the Daughters of Charity across several West African countries. As well as seeing the various wards (antenatal, labour, postnatal, surgical and medical) we visited the immunisation clinic, which was full of mothers and their babies.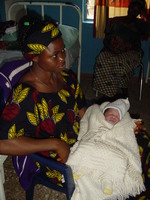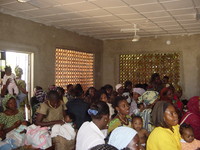 By Wednesday we had run out of things to do in Abuja and spent quite a lot of time lounging by the pool at the Hilton, with a quick trip back to the market to collect Dad's shirts. On Thursday night it was time to go back to the airport to drop Mum and Dad off for their flight home.