I've spent a while this evening packing up some of my stuff, ready to set off for Nigeria tomorrow. Today has been quite relaxing, a trip to Perth with Mum, Dad, Clare and my little niece Eve (picture below). We had a fantastic lunch at Kerracher's, a fish restaurant above a fishmongers, the scallops were especially lovely.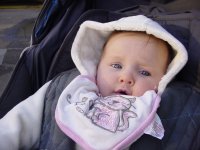 Eve in her pushchair, not happy that I'm distracting her from watching traffic
I was also very impressed by IBM's technical support today. I phoned them yesterday to report that my laptop's hard disk was sounding unwell and a replacement arrived around lunchtime!