Today was a public holiday, so Simon and I decided to visit the park. It's officially called General Hassan Usman Katsina park, but the gate you enter through is Gamji Gate (Kofar Gamji in Hausa) and some people call it Gamji park instead.
The map at the entrance makes it look like the park is huge but once you get inside you realise it's actually quite small and run down. There's a pool with some crocodiles, probably the only ones remaining in a town named for the crocodile river, and three scruffy ostriches.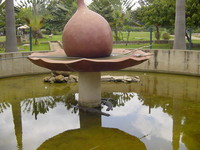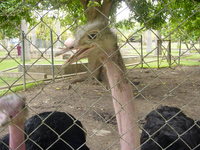 The park is down beside the river, so it's quite pleasant. There's also an old suspension bridge that was originally built at Lord Lugard's place in Zungeru and later moved to Kaduna, it's slowly rusting away to nothing.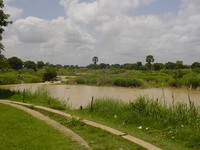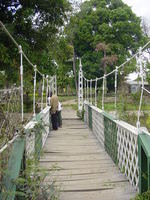 Afterwards we walked round to the Sea Breeze bar, also down beside the river. It's a bit of an odd name, given that Kaduna is hundreds of miles from the sea, but it's a nice place to spend an afternoon. There's a lovely view across the river, with the occasional fisherman floating by on his calabash.