After Vigan I had the long bus ride back to Manila, another night at Friendly's Guesthouse and then boarded a disturbingly rattly old 737 for the Air Philippines flight to Cagayan de Oro city, Marebec's hometown. The approach to the runway at CdO was especially interesting, with the plan veering from side to side as the pilot apparently kept overshooting and then overcorrecting.
Marebec met me at the airport with her niece and took me back to her parents' house. We went into town, where we kept bumping into people Marebec knows, met her sister and had dinner at a restaurant there.
The next morning we took a bus to Malaybalay in Bukidnon province, where we met Tanya (another former VSO) and her friend Mavic (a former colleague of Tanya's) at a nice café. There are some nice caves in the area, so the following day we took various buses and jeepneys to reach the 'blue water' cave.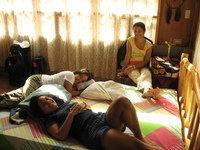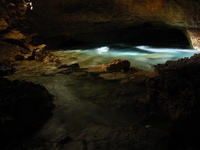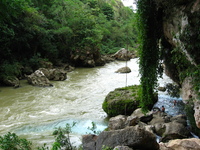 The next destination on Marebec's plan was Camiguin island, just off the coast near Cagayan de Oro. We took an early bus to the port, then a very slow and rusty old ferry across to the island. We ended up staying at the Caves Dive Resort, their cheapest room was right by the beach (admittedly with a shared toilet and no air-con). We spent the afternoon lounging around or in my case mixing lounging around with trying to get through to Qantas's office in Manila. On our second day on the island we hired a 'multicab' (a small truck with a minibus body built on the back) to take us around the island. Highlights were the Santo Niño Cold Water Spring (nice for swimming but quite cold), the ruins of a church destroyed by a local volcano and the Ardent Hot Spring, where we stayed for the night. On the way back from Camiguin we were incredibly lucky and saw some dolphins.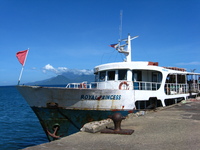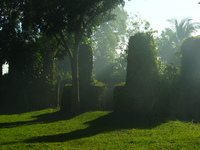 Back in CdO we had a free day to do laundry, drink coffee, do a bit of shopping and buy tickets back to Manila. Then in the evening Marebec picked us up and took us to the company she works for: MORESCO UNO. As the culmination of their company sports competition they were having a cheer-dancing competition and Tanya and I had been roped in as judges. It was one of the more surreal evenings of my life, sitting watching teams of electrical company staff performing their dance routines and having to award points.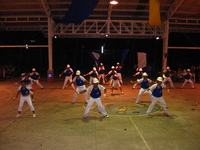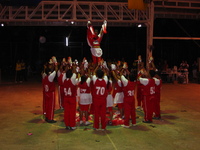 On our remaining days in CdO we went to see "Sweeney Todd" at the cinema and spent a morning rafting on the Cagayan river. Then I had a much less worrying flight with Cebu Pacific back to Manila.