The flight to Manila was uneventful and boring. Qantas seem to still be catching up with entertainment technology; we all had to watch the same films on a large projector screen, very quaint. The films were good though: "Across the Universe" and "September".
I'm staying at Friendly's Guesthouse in the Malate area of Manila. It's quite busy but in a good location for local bars and restaurants.
On Sunday I wandered around town a bit, visiting Rizal Park (a memorial to the Philippines national hero), Intramuros and Fort Santiago.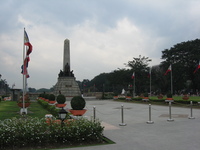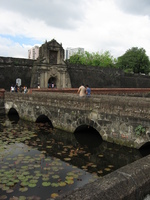 It was interesting to note that on one side of the fort is a golf course that follows the old walls, on the other small boys were paddling rafts cobbled together out of scrap polystyrene foam up the river as they gathered rubbish.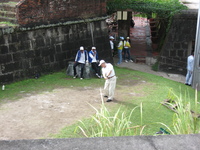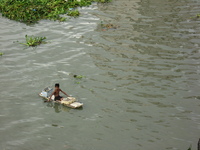 I've been enjoying local food, there's an interesting article about filipino food which also mentions the fondness for "doorbell names" (I saw a poster for a film starring someone called Ding-Dong today).