I recently spent a couple of Saturdays riding around Kaduna with my GPS and a little notebook, puzzling and confusing many bus drivers and passengers. The results are now ready: The Kaduna Bus Map!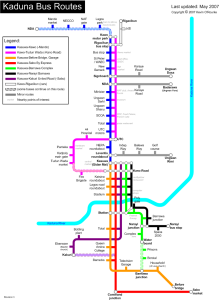 .
If you want to print a copy you're better off using the PDF version, it prints out nicely on a single A4 page. I had terrible problems finding a business centre that had a colour printer, ink and electricity all at the same time.
Update 13/6/07: Corrected a typo in the map legend, it's "Tudun Wada" not "Tudun Wasa". My original version would mean something like "hill of dancing/sports".
Update 18/6/07:Corrected a colour mismatch between the "Tudun Wada" route on the map and in the legend. I originally made it yellow but changed to magenta so it would be easier to see in print.