On Friday I set off with Phyllis, a serving VSO volunteer from Kenya, to visit her placement in Sokoto, in the far northwest of Nigeria.
The idea of the placement visit is that new volunteers can pick up some useful advice, get practice at some of the things they'll need to do in their own placement and see a different part of the country.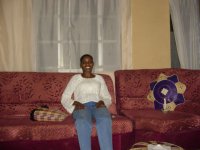 This is Phyllis sitting in her living room, the candle is still lit because the power has only just come back on.
The trip between Abuja and Sokoto takes about seven or eight hours, depending on the car and how many police roadblocks you get stopped at. We set off at about 6:30am from the hotel, in a taxi to the Jabi motor park.
Motor parks are where cars and small busses pick up passengers heading for various parts of the country. Big old Peugeot 505s seem popular as you can fit seven passengers in, although it's not all that comfortable. The drivers don't seem too keen on stopping to let people stretch their legs, the only stops were for petrol, the car is then immediately surrounded by people selling food and drinks. On the other hand it only cost ₦2300, which is about nine pounds (that should be a Naira symbol, by the way, an N with two lines through it).
By the time we got to Sokoto the heat in the car was almost unbearable, but I recovered a bit after a cold shower and some water. The mains water in Sokoto isn't fit for drinking, so Phyllis has to boil and filter her water.
The house is also home to lots of lizards: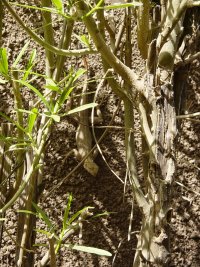 Phyllis is working with local NGOs in Sokoto, to help them with organisational development and with identifying sources of funding and completing the applications. Many of the NGOs in the area have joined forces in the Coalition of NGOs in Sokoto State (CONSS), currently setting up an HIV/AIDS community resource centre, among other things.
She took me to visit one of the projects she has worked with, a group of women who process groundnuts into oil, paste and peanut butter. In the picture below left you can see one of the women with a milling machine they bought with a grant from VSO. The right-hand picture is of Phyllis with another one of the women, squeezing the oil out of the nut paste.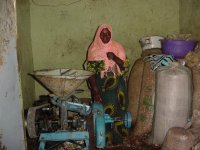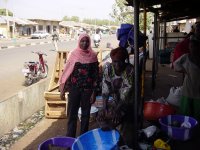 I met lots of new people, saw a completely different part of the country and even managed to have a couple of beers in a Sharia state (alcohol is permitted on Federal territory, such as the customs officers' mess). The weirdest thing is how the trip has changed my perception of Abuja, as I came back into the city it all seemed very shiny and clean and modern.