After Lokoja my next destination was Jos. Unfortunately it seems the only direct car leaves early in the morning, so I had to go via Abuja. On arrival I stopped at AfriOne for a cappucino, which I sorted out where I was going to stay.
For my first night I was at the Plateau Hotel. It's fairly typical of the state-owned hotels, obviously once quite grand but now badly run down. The bar up on the balcony at the front is quite nice though.
I went and had a look at the Hill Station Hotel, where the auditions for the Gulder Ultimate Search were being held. The swimming pool was full of fit young people in swimming costumes, surrounded by onlookers.
On my second day I moved to Les Rosiers, a lovely little bed and breakfast run by ex-pats. They've converted a couple of outbuildings in the grounds of the beautiful colonial house into guest suites, very nicely decorated.
I also headed out to the wildlife park, not many animals to be seen, in fact the closest thing to wildlife was a large school outing and a group of Youth Corpers.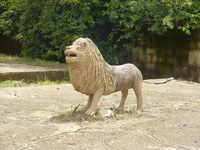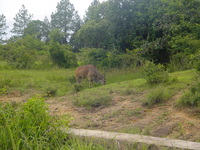 In the evening I joined Julia and Heather for a meal at the Elysar restaurant, an unusual combination of Lebanese and Chinese food. We chose Lebanese starters and then struggled to finish our Chinese main courses, Julia and Heather took doggy bags away with them.