We took taxis to Buea, at the foot of Mount Cameroon, stopping along the way for our first view of (part of) the mountain. When we arrived at the Mount Cameroon Ecotourism Organisation the porters and guides were already there and packing. We had bags full of food and an enormous quantity of water to take with us but the load was eventually distributed and we squeezed into taxis to take us to the start of the walk.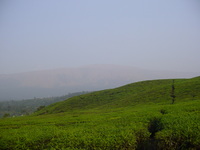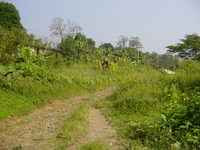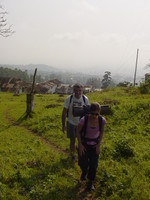 The first section was through plantations, then we entered the forest, climbing fairly steeply the whole time. We stopped for lunch at hut 1, a fairly run down corrugated-metal hut in a small clearing full of bees. Fortunately for us the bees were very docile and seemed to mostly be interested in licking off our sweat while we sat and ate pizza. A little later we had reached cloud level, which also marks where the forest starts to give way to savannah.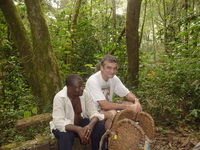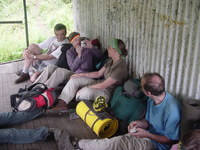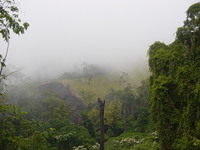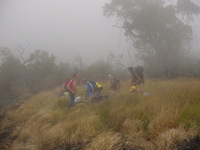 The savannah close to the forest edge had been badly affected by bush-burning, apparently the local hunters sometimes start fires to drive out wildlife. With the clouds drifting over and the volcanic landscape it gave the area a post-apocalyptic feel. The walking got harder as we trudged up the steep lava ridges, it was difficult to maintain a steady pace because of the many places where you had to take big steps onto lumps of rock. Things were even harder for Indar after the sole fell of one of his boots, he managed to borrow a pair of (too small) shoes from one of the guides.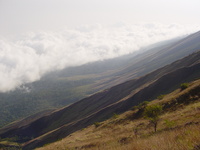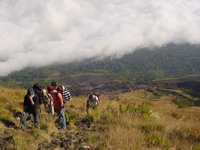 We had to keep stopping for breaks to let our legs recover slightly, with the gaps between breaks getting shorter and shorter. I was getting very tired by the time we reached hut 2, but still went for a little extra walk with Indar and Otto (one of our two guides) to visit a lava tube cave nearby. Jonathan cooked pasta with a vegetarian sauce. As we were huddling round the fire, out of the icy wind, and drinking our hot chocolate we chatted to a German couple who were doing the two-day tour. There was also a large group of Chinese, working in Cameroon, who were just going to the summit and back.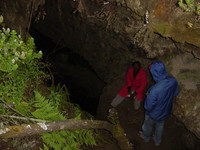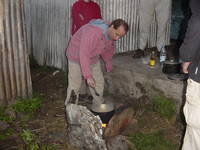 All nine of us squeezed onto a shelf in the hut, even more cramped because we only had eight sleeping mats between us.