Had to get up in the night because of mosquitoes and then a bit later with gut cramps, it seems that Club beer may not agree with me.
We had breakfast at the guesthouse, scrambled egg with toast and Laughing Cow processed cheese plus fresh orange juice for ¢16,000.
After collecting Karen from her hotel round the corner we found a bookshop just off the ring road nearby, seems to be mostly second-hand American books and too many self-help titles. We took a taxi to the National Museum to meet Leo (from Kabba), Sarah (a former VSO in Nigeria) and Pat (another priest working in Nigeria). The museum itself was quite small and probably not worth the ¢45,000 entrance fee, although there was an informative section on slavery. The best part of the museum is the restaurant in the grounds, where we had lunch. This was where Leo introduced me to Castle Milk Stout, a very nice local beer.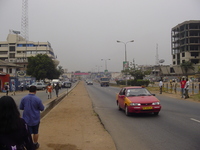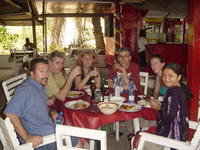 (more…)